"I think, in my opinion, Russell should be edited out, in respect to Taylor and the family," Austin Kelsoe
said on "GMA" this morning.
"In my personal opinion, Bravo should take the high road and do what they think is the right thing to do."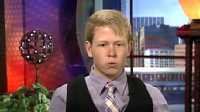 'Real Housewives': Armstrong's Nephew on Suicide
Watch Video
The Los Angeles County Coroner confirmed Wednesday that the
death of Armstrong
, 47, the estranged husband of "Real Housewives of Beverly Hills" cast member Taylor Armstrong, was a suicide. He was found hanging by an electrical cord at a Los Angeles-area home Monday night.
Andy Cohen, host of "Watch What Happens Live" and executive VP of original programming and development at Bravo, wrote on his blog Wednesday that, "We're all still ... looking at how to proceed with the series, which has finished primary production and was set to premiere on Labor Day. We'll let you know what we decide when we do."
Armstrong's suicide has divided his own family and friends over the role the reality show played in his death. Armstrong appeared frequently on the show with his then-wife, Taylor.
Armstrong, portrayed as controlling and unlikable in season one of the show, watched his marriage to Taylor collapse during filming of the show's second season. Taylor filed for divorce in July and accused her estranged husband of physical and verbal abuse in divorce papers.
Family Still 'In Shock,' Divided
Kelsoe, the 18-year-old son of Russell Armstrong's sister, Laurie Kelsoe, said he saw the stress the show placed on his uncle, but doesn't blame the show for his death.
"I think there were other factors of their marriage that could have led to the ruin of his life," he said on "GMA." "I guess the show could have been one of the factors, but I don't think it was solely based on the show."
Armstrong's stepmother, however, believes the show pushed her stepson over the edge.
"I know this show ruined his life," Gladys Armstrong told "GMA." "Deep in my heart I know that. Russell was not what he was made out to be."
She also blamed Taylor Armstrong for adding to the extreme pressure and stress she believes Russell was under.
"I think that Taylor was a little bit responsible," she said. "He was just pushed to the limit and trying to keep up with the Jones's."
In an interview with People magazine that took place a few weeks before his death, Armstrong admitted that "Real Housewives" caused some angst in his actual reality. "It got really overwhelming," he told the magazine. "When you get a TV show involved, and all the pressure — it just takes it to a whole new level. ... We were pushed to extremes."
Taylor and Russell were, at the time of his death, sharing custody of their 5-year-old daughter, Kennedy, who, Armstrong's business partner confirmed to "GMA," is not aware of her father's death.
"She doesn't know yet, and we want to keep it that way for a while," said Francisco Martin, one of the people who discovered Armstrong's body Monday night.
Martin also defended Taylor Armstrong and told "GMA" he believes her actions and lifestyle are not responsible for her estranged husband's suicide.
"There are so many variables that we have absolutely no idea," Martin said of what could have driven his business partner to suicide. "I don't know what was going on in his mind at that point."
Armstrong Under Stress, In Debt Before Suicide

Armstrong, an investment banker and venture capitalist, was also more than $1.5 million in debt at the time of his death, and spending wildly, his lawyer told ABCNews.com.
"He didn't have any extra assets," Ronald Richards said about his client. "He was living month to month to support his lifestyle for Taylor."
At the time of his death, Armstrong was being sued by MyMedicalRecords.com for misusing funds and breach of contract. But Richards said it was the pressure to one up the fellow "Real Housewives" personalities that really strained his finances.
"These couples join these shows, and then they keep trying to outdo each other and they end up spending all their money trying to sustain a lifestyle that's unrealistic and wasn't there prior to the show," he said.
"The weekly social events, the dinners and all the BS, trying to pretend you have unlimited resources in Beverly Hills is tough. When every night is a potential sound bite or posting on a website, you end up getting addicted to it, you go out all the time."
Kelsoe, who described his family as "still in shock" over Armstrong's death, said he could see the stress the show placed on his uncle.
"He told me he was going to be on it, and he seemed really ecstatic about it, at that point he was happy," Kelsoe said of his initial conversations with Armstrong before taping for the show's second season began. "When I visited him a couple of weeks later, he was telling me how stressed he was from the show and stuff like that."
RadarOnline.com
reports that other members of Armstrong's family are reportedly considering filing a lawsuit against Bravo for contributing to the emotional state that led to his suicide.
"Bravo is at fault and somebody needs to pay," Russell's stepbrother Wade Jackson told the outlet in an interview. "Russell's whole family was very close and they're considering suing Bravo."
Bravo has not commented on allegations that the show played a role in the suicide.